TCCPI Steering Commitee Member Speaks at 2012 ICLEI World Congress
ICLEI Local Governments for Sustainability has over 1,220 local government members from 70 countries, representing more than 569,885,000 constituents. Founded in 1990, ICLEI provides support, training, and collaboration for tracking metrics and implementing sustainable development practices to members. Local ICLEI members include the City of Ithaca, Town of Ithaca, Town of Dryden, and Tompkins County.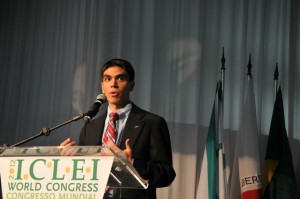 Dominic Frongllio addresses the ICLEI World Congress.
Dominic Frongillo, a member of the TCCPI Steering Commitee and Deputy Town Supervisor in the Town of Caroline, NY, had the opportunity to speak at the
2012 ICLEI World Congress
from June 14 to 17 in Belo Horizonte, Brazil with support from ICLEI and TCCPI.
Held every three years, the World Congress is the largest global convening of the ICLEI membership. This year, the conference immediately preceded the Rio+20 U.N. Commission on Sustainable Development, held on the 20th anniversary of the first Rio Summit and a disappointment for many observers.
In the absence of true leadership on sustainable development from national governments, cities and other subnational actors are driving the world's transition towards sustainability. Local governments are more agile and responsive than nation-states, and are actively engaging citizens to raise awareness about climate change and sustainability. Across the world, cities are shifting their strategies for pursing sustainability from top-down approaches to multi-sector collaborative approaches.
Frongillo said that the ICLEI World Congress was inspiring and hopeful. Over 1,600 participants from 900 local governments in 64 countries were in attendance. Presentations and conversations were lively and covered a refreshing range of emerging topics. Over 250 speakers provided case studies and research on topics ranging from green economy, resource-efficiency, smart infrastructure, climate mitigation, resilience, and community vitality.
Frongillo was one of four elected officials representing
ICLEI FutureCityLeaders
, a new initiative to engage emerging local government sustainability leaders. He felt especially grateful to have the opportunity to address the full assembly at the closing plenary session. You can view his
written statement here
.
6/20/12