City of Ithaca Signs Agreement for Large-Scale Solar Installation
City of Ithaca Mayor Svante Myrick recently signed a 20-year power purchase agreement (PPA) for a 2.4 megawatt solar array planned for construction on 10 acres of land at the Ithaca Tompkins Regional Airport, bringing the City one step closer to its dream of a large-scale solar installation. The system is planned for completion around the end of 2015.
"The economic and environmental benefits are enormous. We will save taxpayers money and reduce our GHG emissions by 874 tons every year," said Myrick. "I want to thank Sustainability Coordinator Nick Goldsmith and the entire City staff. This project is a big deal. It took a lot of internal discussion, a lot of cross-departmental collaboration, to make this happen. Ultimately Common Council voted unanimously to approve the agreement."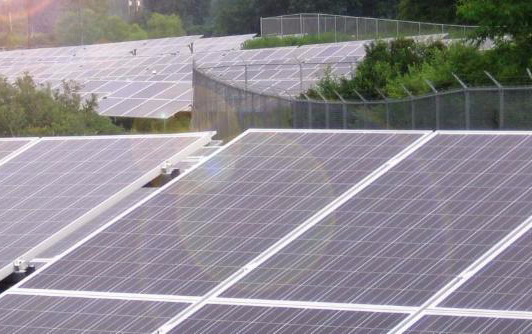 Under the terms of the PPA, solar provider Solar City will be responsible for the design, installation, and maintenance of the system. A remote net-metering arrangement will be used, whereby the City of Ithaca will purchase all electricity generated by the system from Solar City, that power will feed into the NYSEG grid, and the City of Ithaca will get a monetary credit for each kilowatt hour of electricity in the form of a reduced electric bill.
The City will also see a reduced carbon footprint. Goldsmith, who is spearheading the solar farm project, estimates the initiative will reduce the same amount of GHG emissions as that produced by the electricity use of 120 homes. "Between our ongoing energy efficiency efforts, and now this solar project, we are well-poised to meet our sustainability goals," said Goldsmith, "and we're saving money too!"
The City will be joining both Tompkins Cortland Community College and Cornell University as major purchasers of energy produced by large-scale photovoltaic projects in Tompkins County.
Ithaca Times, 2/24/15