Solar Tompkins Exceeds Its Goal: 400 Installations Scheduled
Solar Tompkins is set to exceed its goal of doubling the total deployment of residential solar power in a single year, as more than 400 solar installations within the county are scheduled to be completed by June 2015.
According to Solar Tompkins Program Director Melissa Kemp, these installations will add approximately 3 megawatts (MW) of residential solar photovoltaics (PV). The contract signing period for the Solar Tompkins program ended on November 1.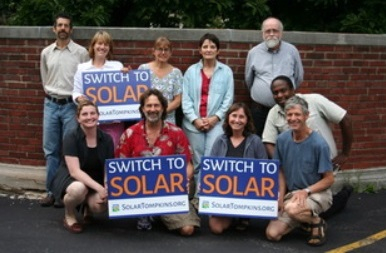 In all, the program netted more than 1,300 enrollees, and of those, 401 projects were sold. Solar Tompkins board member Guillermo Metz, who is also the Green Building and Renewable Energy Program Coordinator at Cornell Cooperative Extension of Tompkins County (CCETC), called the nearly 30 percent closing rate "really, really great." Solar Tompkins's self-proclaimed goal was 300 contracts.
According to a Solar Tompkins press release, the households moving forward with installations will start saving money right away, and "are creating a boom in the solar installation business that has resulted in at least 22.5 new, permanent, full-time, living-wage jobs created in our communities in just the last six months."
Solar Tompkins is a volunteer-based non-profit group with the mission of accelerating the transition to affordable, renewable power. According to Kemp, the program reached out to every town in the county, holding 34 community meetings and more than 25 other educational events during the summer of 2014.
For an average residential customer in New York, up to 69 percent of the cost of a solar PV system is covered by incentives. These incentives include a $1 per watt (W) upfront grant from the New York State Energy Research and Development Authority (NYSERDA), a federal tax credit of 30 percent, and a state tax credit of 25 percent. Solar Tompkins was also able to provide a 20 percent below regional market pricing as a result of volume discounts negotiated with participating installers.
As a result of these incentives, an average family using 7,500 kWh/year can typically purchase a system to cover 100 percent of their current electricity needs for between $5,500 and $8,000, depending on whether it is roof- or ground-mounted. Homeowners can also lease a system for no upfront cost and pay about the same price per month they are paying to their electric utility today.
Solar Tompkins does not plan to hold this program in 2015. The deal was a one-time offer, Metz said. It will be up to solar installers to decide what kind of prices they can offer moving forward.
"The hope is we're establishing a new normal," Metz said. "Once residents start seeing it commonly around the community, and your neighbors are talking about it, and they're all excited -- I do think that momentum will [result in more installations]."
Ithaca Times, 12/16/14